Six Rivers Rafting Company was founded in 2010 by the amazing Shandy, and her awesome pal Patrick.  The torch has been passed recently to long time river manager, head guide, and old fashioned Trinity River pirate, Pete Harrison.  Pete grew up near Acadia National Park in Maine, with parents who led Sierra Club camping and hiking trips. He started guiding commercial whitewater trips in 1999 in California in the Sierras.  Pete has been guiding in Northern California and on the Trinity River since 2001, and if you've been on the Trinity before, there's a good chance you saw him out there guiding for one of the local companies. He married a Trinity County local, Sara, who owns and operates the local photography business, Serendipity Snapshots.  Pete has a passion for the river and making sure every river experience is full of amazing and unforgettable memories.  Pete and Sara live on the Humboldt coast in the winter, while Pete teaches a 5th-6th grade combo class during the week, and spend their weekends rafting and hiking with their dog in all the glory the North Coast has to offer.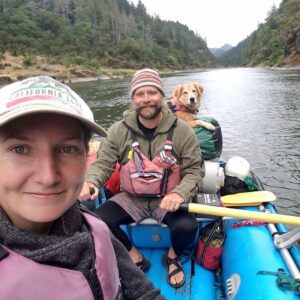 At Six Rivers Rafting we believe that your perfect rafting experience is possible and we strive to provide the best: experienced enthusiastic guides, high quality gear, safety consciousness, organic food, and attention to detail.
Our Green Commitment
We mean Green. From company purchases to delivering our products, we aim for social and ecological sustainability. Six Rivers Rafting is committed to serving local and organically grown food and high quality drinks on all river trips. We are promoting river waste reduction and ask that plastic disposable water bottles not be brought on the trips. You can help by participating in our no-plastic-on-the-river policy and bring a reusable water bottle on your trip, or if you do not have a reusable water bottle, a Clean Canteen with mountain spring water will be provided to you for no extra cost.